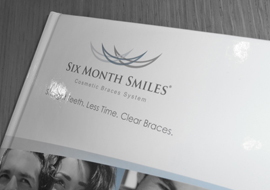 Six Month Smiles are a modern form of cosmetic braces designed to quickly and discreetly improve the appearance of your smile. They are a popular choice for adults who have long dreamt of straighter teeth, perhaps missing out on orthodontic treatment when younger or perhaps finding their teeth moved back to their original position after treatment. Everyone deserves a beautiful smile – you deserve yours too.
While many adults want straighter teeth, the thought of wearing obvious metal braces can be off-putting. Traditional braces also often have lengthy treatment times of 18 months or more, which is not compatible with a busy professional and personal life.
Six Month Smiles are different. They embrace the traditional principles of orthodontics, but modernise them for faster, subtler treatment.
As the name suggests, the average treatment time with these braces is just six months – in some cases it may be even shorter. Six Month Smiles work so quickly because they focus on the front six to eight teeth – those that show when you smile. In addition, Six Month Smiles are more discreet than traditional braces because they comprise clear brackets and tooth-coloured wires, meaning that they blend in with the natural colour of your teeth.
At Burwell Dental Surgery, principal dentist Sheetal Jadhav is a certified Six Month Smiles provider. She welcomes patients for consultations to assess if this is the best treatment option for you.
Sheetal says: "I get a lot of satisfaction by making patients happy with Six Month Smiles. They provide a confidence boost, improving a patients' professional and personal life. In many cases I see my patient transform into a different person within months."
Although they are considered a cosmetic treatment, Six Month Smiles can also improve your oral health. That's because straighter teeth are healthier teeth, because they are easier to clean, and there are fewer gaps for food particles to get trapped in and for bacteria to build up. Straightening your teeth with Six Month Smiles will make your teeth easier to clean, helping to reduce the risk of tooth decay and periodontal (gum) disease.
Six Month Smiles has taken the best aspects of braces and modified the treatment and the materials to give adults a common-sense, cosmetic solution that fits your lifestyle. Here is what makes 6 Month Smiles so innovative....
Here is what makes 6 Month Smiles so innovative...
Average treatment times of only six months
Six Month Smiles Lucid-Lok™ clear brackets and tooth-colored wires are barely visible
Use of braces has shown to provide the most conservative and predictable final result
Six Month Smiles Patient Tray Kits™ ensure that your appointments are fast and comfortable
Low forces and short overall treatment times increase comfort, safety, and hygiene
Six Month Smiles is typically less expensive than traditional braces, aligner therapy, or veneers
Six Months Smiles
Case 1
Before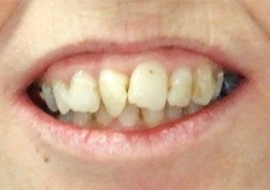 After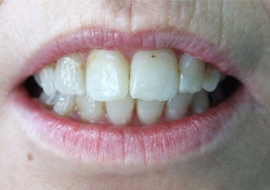 Case 2
Before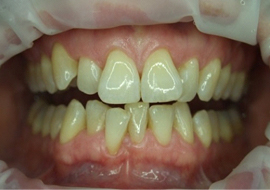 After
Case 3
Before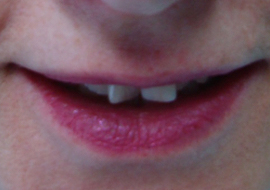 After
Q: What is 6 Month Smiles
A: 6 Month Smiles™ braces are clear
Wires are usually tooth-coloured and very small
Treatment times usually fall within 4-9 months
Discomfort is minimal as teeth are gently repositioned
Cost is usually less than traditional braces
Q: How can teeth be straightened in only 6 months?
A: The 6 Month Smiles™ technique employs the latest technology and techniques in dentistry to move your teeth quickly and safely using a brace that is attached to your teeth. The key components of the treatment are the use of special nickel titanium wires and a primary focus of moving the teeth that show when you smile.
Q: 6 months sounds good, but will I still have a mouth full of metal for the whole time?
A: No! 6 Month Smiles™ dentists use tooth-coloured braces that are barely visible. The wires are usually tooth-coloured as well. These are nothing like metal braces!
Q: How are 6 Month Smiles™ more comfortable than regular braces?
A: 6 Month Smiles™ use low force to move teeth more comfortably. Many people think that the accelerated treatment means simply "tightening" regular braces to get the teeth moving, but that is not true. 6 Month Smiles™ utilizes standard orthodontic mechanics, but with an emphasis on the cosmetic appearance of your teeth rather than the position of your bite.
Q: Do 6 Month Smiles™ braces damage the teeth, roots, or gums?
A: There are no more risks of root damage or other issues than those associated with traditional orthodontics. Since the forces used with 6 Month Smiles™ braces are lighter and teeth are seldom extracted, there are actually even fewer risks involved with 6 Month Smiles™ orthodontics.
Q: Will I have to wear a retainer?
A: Yes, as with any teeth-straightening treatment a retainer is necessary to maintain the straighter position of your teeth. If you don't want to wear a removable retainer, you can have a bonded retainer placed. There are a variety of options that you can choose from according to your personal preference and situation.
Q: Would I be suitable?
A: If you are an adult (15 years and older) with crooked or spaced teeth and you're not looking for a major alteration to your bite, this could be the solution for you! Most adults ARE candidates for 6 Month Smiles.