The Role of Fibreglass in Dentistry
"EverStick fibrebond treatments can be carried out in one visit so you have your tooth straight away!"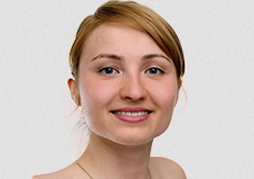 For whatever reason you find yourself with an unwanted gap, there are various options available to patients looking to restore a missing tooth One of the least invasive and cost-effective treatments we offer is what's called a 'Fibre Reinforced Composite Bridge' or FRC bridge for short.
Rather than having to damage the teeth either side of the gap (as is the process for preparing a conventional bridge) the FRC bridge is bonded directly to the anchor teeth using a material called 'everStick'.
Bridging the Gap
EverStick is made up of glass fibre strands or bundles which are used to create a frame. The missing tooth is then built up using a white, composite filling material and cured with a very intense light.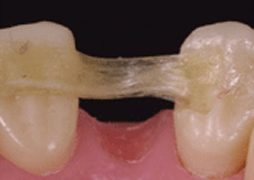 Fibre bond bridge construction in progress
Fibre bond bridge complete
Studies have shown that the bond between composite-resin and tooth enamel is the strongest bond possible in the mouth. Not only is the strength of the everStick fibre as high as that of chrome cobalt cast metal, it also has the advantage of not being completely rigid, but has similar elasticity to that of dentine.
Fibre bond bridge complete
Once fitted, providing you look after your bridge and see your dentist for regular visits, your FRC should last for many years. You can also be reassured to know your teeth are not damaged in any way and the procedure is entirely reversible.
If you would like to know more about fibrebond bridges or periodontal splinting, check out the EverStick website
If you'd like to know if this treatment may be suitable for you, please telephone and book a short consultation with Sheetal
Back to How can we Help?