Modern braces do not have to be made from metal. At Burwell Dental Surgery in Cambridge, we appreciate that the thought of wearing an obvious metal appliance can be a significant barrier to treatment for many adults, who rightly think a fixed metal brace is incompatible with a professional adult lifestyle.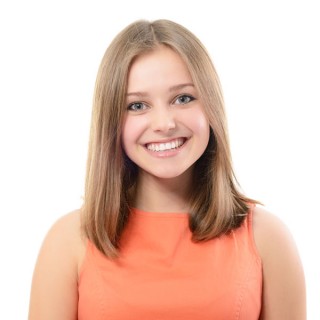 At our Cambridge dental practice we believe that patients can benefit from teeth straightening treatment at any age. These benefits aren't all cosmetic, either – straightening your teeth helps to improve your dental hygiene by cutting down the number of areas that are hard to clean effectively at home, and where dental plaque can start to build up.
Of course, you will still have to employ a fastidious tooth cleaning routine at home, brushing and flossing at least twice a day, and will have to visit your Cambridge dentist and hygienist as regularly as they tell you to, but by straightening your teeth you can reduce your risk of both tooth decay and gum disease.
At our Cambridge clinic we have used the Six Month Smiles system of cosmetic braces to successfully straighten many adults' teeth. Six Month Smiles are fixed appliances, but unlike metal braces they will not be glaringly obvious as you go about your daily life.
Six Month Smiles braces are made from clear ceramic brackets and tooth-coloured nickel-titanium wires, which means that they blend in well with the natural colour of your teeth. They are designed to work on the "social six" front teeth, which are the teeth that most patients who come to our Cambridge clinic are primarily concerned about.
Whilst Six Month Smiles braces are not designed to correct major issues with the bite, for mild to moderate issues such as crowding with the front teeth they can be the perfect solution.
As well as being subtle and fast-acting, this brace system is also known for being much gentler than traditional orthodontic appliances, because of the lower forces that are used.
At the end of treatment you will need to wear a retainer, to make sure your teeth stay in their new position.