Referrals for Dentists

Referrals
Burwell Dental Surgery is fortunate in being able to accept referrals from external sources for some of dentistry's more complex procedures. We accept referrals either directly from the patient or via a general dental practitioner.
Cristina Marangon
GDC No. 239088
Zainab Salim - BDS MClinDent (Edin)
Zainab graduated from the University of Nairobi in 1993 and has worked in various government hospitals including Nairobi, Mombasa in Kenya and the Sultanate of Oman.
For the past 12 years she has been practicing general dentistry in the UK.
In 2013, Zainab completed a Master's degree in Clinical Dentistry in Oral Surgery at Edinburgh University and until recently was contracted by NHS Cambridgeshire to work as an oral surgeon at Brookfields Health Centre, Cambridge. She is happy to accept referrals from simple extractions to impacted wisdom teeth as well as minor oral surgery.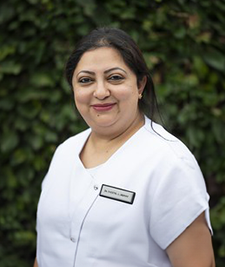 Mabel Saw – BChD. (Leeds)
Mabel graduated from Leeds University in 1985 and took over as Principal dentist at Burwell in 2007.
While practicing general dentistry, Mabel began to realise that patients weren't only presenting with general tooth-related problems but other complaints associated with the head & neck - problems such as undiagnosed headaches, dizziness and neck/shoulder stiffness. She also began to notice that some clients were repeatedly breaking the same fillings and/or teeth and suspected occlusal disharmony was involved.
She decided to further her studies on the jaw/TMJD and in 2013 completed a set of courses with the British Society for Occlusal Studies. She has successfully treated many patients who have suffered from chronic head, ear, neck and shoulder problems.
How to refer
Patients may be referred in the following way:
Downloading our referral form
Writing to the Practice
Calling us on (01638) 741350
On receiving a referral, we will contact the patient to arrange an appointment for a short consultation. The consultation allows us to meet with the patient and fully assess their needs. We will then discuss treatment and devise a treatment plan specific to them. The consultation also gives the patient time to ask questions and, if they wish, discuss the intricacies of their treatment further.
There is no charge for the initial appointment but the dentist may if necessary, need to take an x-ray in order to assess the tooth or teeth further (please see 'Our Fees' for more information) If you can provide any recent x-rays this will obviously reduce the patient fee.
Following assessment, we will provide a written treatment plan detailing the number of appointments needed and the costs involved. Patients can then either make an appointment to continue with treatment or take time to consider their options further.
Following treatment, we will return the patient back to the care of their regular general dental practitioner, with a written report detailing the procedure carried out.